Cardinal Stadium Seating Chart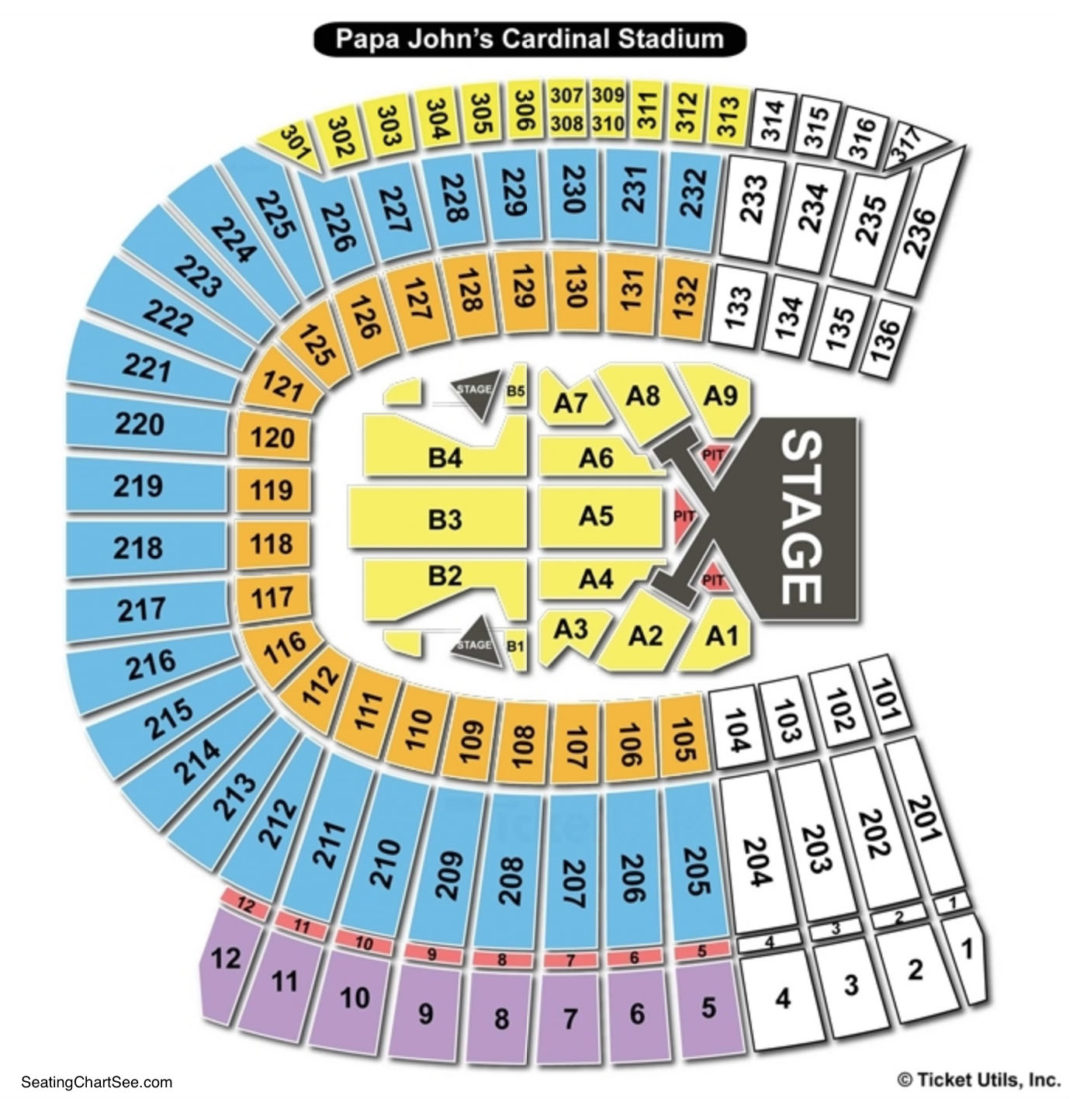 NOTE: Seating layouts may change depending on the event. Make sure you check the individual seating map when selecting your tickets.
The sections in Cardinal Stadium are numbered from the northeast corner of the stadium (101, 201) and increase in a clockwise direction (ending with Sections 136, 236). Viewed from the field, seats are numbered from left to right and rows are lettered from the bottom beginning with the letter "A."
Sidelines
The Louisville sideline is in front of 130 and 131. Where else, the visiting team sideline is in front of 106 and 107.
Shaded & Covered Seating
Less than 10% of seats at Cardinal Stadium offer some type of shade or cover. Below is a sample of seats that are at least partially covered or shaded at different times of the day. To search for tickets or to find out if your seats are protected from the sun or rain, follow the link for the seat finder.
Rows B and above in Section 317 are covered
Rows A and above in Loge 1 are covered
Club & Premium Seating
PNC Club seating includes Section L1-L12. Suites on the east side are numbered similarly S1-S33. Each loge section features comfortable outdoor seating with an elevated sideline view.
Even without premier amenities, many Louisville fans would agree that the views alone from Loge Sections 5-8 make them the best in the stadium.
Amenities include temperature controlled lounges, full-service bar, concessions, large-screen televisions, lounge seating.
The Brown & Williamson Club is located on the west side of the Stadium, offering covered outdoor seating for 2,000 fans. Seats begin with section 301 and increases in a clockwise direction ending with section 317.
Amenities in these club seats include covered outdoor seating, private restrooms, upscale seating with extra legroom, and access to the Brown & Williamson Club Lounge which features upscale bar and concessions, flat screen TVs, and plush seating areas.
Amenities are available for Louisville home games. For other events, some amenities may not be available or offered.
Alcohol Free
Alcohol is prohibited in Sections 104 and 204 making it the best sections to bring your kids around.
Student Seating
Student seating is available in Sections 109, 110 and 209 with the band seated in section 111.
Student tickets are stamped STUDENT and require a validated student I.D. for admittance. Student tickets may not be resold or given to anyone without having a valid I.D.
Recommended Seats
Kids and Family (Sections 104 and 204)

Alcohol-free section
Can be ejected for bringing alcohol in this area
Less rowdy than other parts of the stadium
Partying and Socializing (Sections 109, 110, 111 and 209)

Designated student section
Great party atmosphere among rowdy students
Great Views of the Field (Sections 129, 130, 131 and 229)

Great 50-yard line view
Some of the closest seats to the field
The opposite side of the field has designated sections so it is not as good for watching the game
Reserve your seat and order your tickets today! Visit the events page to get started.
For more information on the ticket policy and the preferred ticket provider please view the Cardinal Stadium tickets page.
For all upcoming events at the Cardinal Stadium please view the Cardinal Stadium events page.